Thursday, May 12, 2005
Fifth:start making the real fuel tank
Today I was awestruck by the extent of Tom's knowledge and knowhow. Wow . A workshop full of tools at our disposal. I doubt I'd actually be doing this conversion if Tom wasn't.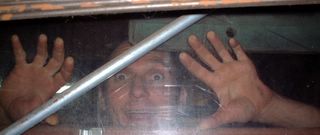 (Tom before coffee)
So today was a long day working on making the real actual tank for Mr. Bruce Handbag. From 11am to 5pm phew!
Tom had a bit of leftover stainless steel which was enough to make the tank from.
I laid the cardboard model out on the metal and traced and measured out the long flat bit which wraps around. Then I traced out one of the ends and got a ruler and measured it all. Then Tom looked at it and pointed out that it was 10mm higher on one end than the other so he re-did that bit and traced round a circular grindy thing to get perfect circle shapes at the ends. Humph how unco/freestyle I am.
Then using a spunky olde fashioned machine which i guess is really a mechanical tin snips that looks more like a spaceship from dune, the bits were cut out of the metal. I even cut one out but yes it was a bit messy!
Then Tom took the two end bits and clamped them together and took them to the grinding wheel and made heaps of sparks grinding away untill they were an exact match.
Next to sort out was the copper hose in the tank, which will have hot water running through it to heat up the tank. The spare copper pipe Tom has was old and not happy about bending any more so we went to
Reece's
which is a plumbing supply store.
Tank heating coil detail
For my 40L tank we used 3m of
Kembla
annealed copper pipe which is 15mm diameter and .091mm thick copper that cost $27.94 at Reece's.
Also we bought an internal bending spring for $9.79 this goes inside the copper pipe so you can bend the pipe without squishing it out of shape and making it useless.
And also while we were there we got some Silver Solder Flux for Tom for $15.46. Tom used silver solder to weld the copper to the steel tank.
Parts of the tank
SO thats $53.20 spent so far. There is alot of cost which isn't counted there including: Tom's labour, all the fancy equipment in Tom's workshop, the stainless steel sheet, and the bits Tom needed to use like solder stick thingys
assembling tank
Comments:
Fuel is the adrenaline of any car, truck or engine. Thus, it is every vehicle owner's wish to enhance the fuel of their car and save more of it as well. With this in mind, the most innovative fuel-saving tool in the automotive industry was conceptualized and created: the Tornado
Fuel Saver
. An automotive air channeling tool that creates a swirling air motion, the Tornado
Fuel Saver
allows the air to move in a faster and more efficient way by whirling air around corners and bends. Hence, more fuel is saved.
Search engine optimization
,
Try to Be happy
Post a Comment
<< Home